Control. Automate. Transform.
Monitor, Control, and Automate Your Facility Operations at Your Fingertips with Captheon Intellities.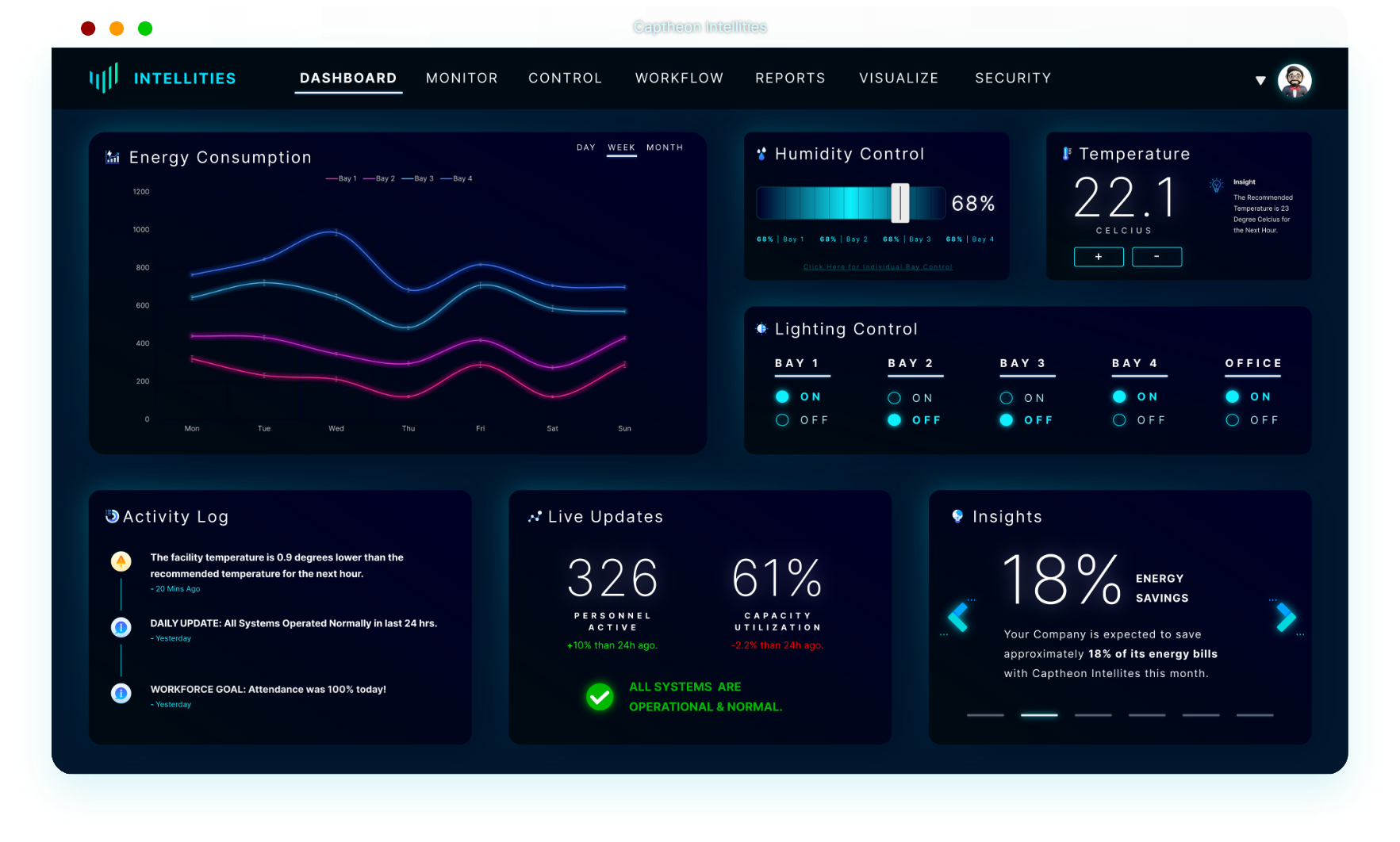 Take Facility Management to a Whole New Level.
With its state-of-the-art technology, Intellities offers comprehensive solutions for monitoring, control, visualization, and automation of all aspects of your facility, from security and access control to HVAC and energy distribution. With a user-friendly interface and seamless integration with AI and AR/VR, Intellities provides real-time data analytics and reporting to optimize your facility's performance and reduce operational costs. Say goodbye to manual monitoring and welcome the future of facility management with Intellities. Sign up today to experience the power of intelligent facility management.
All That You Need. Tailored for You!
Captheon Intellities is a highly flexible, modular and scalable platform to help you achieve your goals and fulfil your organizational needs. Amongst a galore of features, the prominent ones are enough to take care of everything you need to do.
Benefits that you truly need.
Intellities is a comprehensive platform for managing your facility operations. Our platform offers the following benefits:
Increased efficiency through workflow automation and task management
Reduced costs with real-time monitoring and data-driven decision making
Improved productivity with space visualization and resource allocation features
Enhanced security with integrated access control and physical asset management
Scalability to meet the needs of any facility, from small businesses to large enterprises.
Trusted. Adored. Revered.
Intellities has transformed the way we manage our facility. The AI-driven insights have helped us make highly informed decisions resulting in increased efficiency and reduced costs.

George Smith

Facilities Manager
The customizable workflows in Intellities have made facility management a breeze. We were able to create workflows that fit our specific needs resulting in better collaboration and faster turnaround times.

Jennifer Bryant

Operations Manager
The predictive maintenance features in Intellities have been a game-changer for us. We were able to identify bottlenecks and potential equipment failures before they occurred, minimizing downtime and maintenance costs.

Soham Shah

Director of Maintenance Operations
Get Started with Intellities
Fill the form to download the prospectus with additional details on Intellities and in the meantime, our team will be in touch with you to explore your needs.